The Highlands has always been a popular destination for touring holidays but it has become even more popular since it was named the NC500. This route now has a website with much information but not all accommodation providers. I do not want to try to replicate all the details in it but Thurso is a good staging point.
Scotland is built for dawdling and it is bigger than you might think so don't be too ambitious about how far you go in a day. For example Ullapool to Thurso is a good 6 hour drive.
The best places and best views are not seen from the main roads. You must try the smaller roads, it is well worth it.
Some less used routes (see map below) :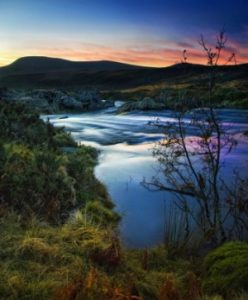 From Ullapool to Thurso instead of the coast road go via
Lairg directly to Tongue – wonderful mountain scenery
or
Lairg to Bettyhill via Strathnaver – more mixed scenery of mountain / river valley
Inverness to Thurso takes about 2hr 30mins if driven directly but instead of the A9 all the way divert at
Evanton – Dornoch Firth on the B9176 – more varied scenery and the view at the end over the Dornoch Firth is spectacular (there is a parking place to take a photo). This diversion does not add much time to your journey.
If you prefer the roads less travelled continue from Bonar Bridge to Lairg and take either route north (see above) but this will add considerably to your travel time. Otherwise go back to the A9.
There are lots of places to visit on the A9 or as short diversions (such as Dornoch) and many lovely places to eat.
Whichever route you take please take care. We want you to arrive safely.
Our tour guide (PDF 600kb) lists some places where you can stop for walks or refreshment as well as taking you past most significant tourist attractions. Please contact us if you would like any tourist information for the North of Scotland.