We do not offer evening meals at Pentland Lodge House, there are many excellent places to eat very close by. However we would never like to see anyone go hungry so we can rustle up a supper tray for you if needed. We are also happy for you to use our dining room for take-away meals (just ask us for plates etc).
We keep sample menus of most places to eat in Thurso. We have also eaten in most of them and are happy to let you know our views. Being so close to the sea it goes without saying that you can get excellent fish but our local beef and lamb are also extremely tasty. From fine dining to takeaways, there is something to suit every taste and budget.
Most places do not require booking in advance and are within a short distance of each other so you can take a look before you eat. However there are some places that it is best to book in advance.
Restaurant-Style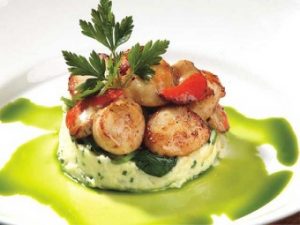 This is one of the best Seafood restaurants in the country (selected in the Top 50 best places to eat by the Times).
Husband and wife team, Jim and Mary, have won numerous awards for their food and the strong philosophy of using local sustainable and seasonal produce.
A very popular restaurant in town, recently renovated from its previous incarnation as Le Bistro.
One of the latest additions to the Thurso area. This Spanish restaurant located in Scrabster gets excellent reviews.
Pub-Style
Y-Not offers a range of good quality pub food in a relaxed environment.
Hotel Restaurants
Best known for their carvery on a Sunday.
Offers a range of traditional pub food. Their macaroni cheese is a favourite from the menu.